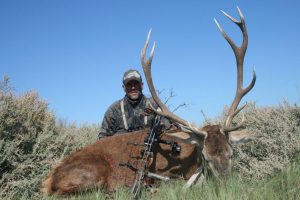 La Pampa and Patagonia represent the bulk of our big game options in Argentina. Located north of Buenos Aires, in La Pampa our clients have exclusive access to thousands of acres of private ranches chocked full of prime red deer habitat, teeming with trophy class red stag. Approximately 4000 acres of one ranch has been set aside solely for our bowhunting clients. Fallow deer, Axis deer, Mouflon sheep and Black Buck are also available in excellent numbers, and trophy quality is exceptional. All hunts on our private ranches are strictly fair chase.
Patagonia offers vast expanses of free range habitat where our clients (mostly firearms hunters) can pursue trophy class red stags to their hearts' content. A bit more preparation is needed to meet the more physical challenges of these hunts and get the most from the experience. No need to be a marathon runner, but some physical training in preparation will go a long way to adding enjoyment and success to your hunt.
High volume dove shoots, upland bird and mixed bag waterfowl hunting are also available. These are excellent options to add 2—3 days of wing shooting to your big game adventure.