The south Pacific is new to many as a hunting destination, but most folks agree once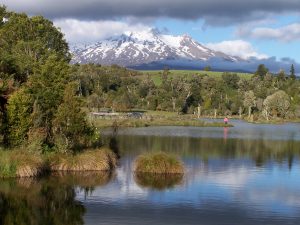 they see it, that there is not a more beautiful place on the planet, nor a more exhilarating place to hunt! I personally couldn't agree more. Trophy class game only exists on private hunting concessions in New Zealand because Nature Conservation has an eradication policy for all species not native to the country. And that means just about everything on both islands. However, our private ranches are blessed with huge red stag and sika stag, plus trophy fallow deer. Here with our North Island outfitter these three are the primary fare. But, with just a short hop to the South Island and we have bull tahr and chamois available for our clients who are so inclined. At both locations, a variety of lesser species are available such as arapawa ram, texas dall, and wild goats which make for great entertainment for not much money.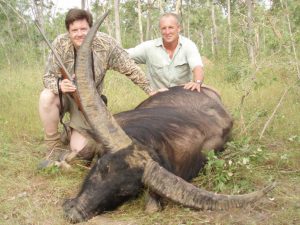 "Down under" Trophyseekers Worldwide Inc. is proud to represent one of the most renowned outfitters in all of Australia for Water Buffalo, Banteng, and Wild Ox. Trophy buffalo that you have to see to believe! We have them in spades! Accessed from the Darwin Airport in the Northern Territory…This wilderness concession covers over 1,000,000 acres! Think about that…The size is almost impossible to grasp! Over twenty years of hunting has still left vast expanses of habitat untouched and unexplored. And that is why the buffalo taken from this concession continue to get bigger and better with each passing year. Clients can opt for a 10-Day Wilderness Trophy Buffalo Hunt and concentrate on finding a true golliath of a bull…or they can opt for a Combo Hunt for trophy buffalo, banteng and wild ox. Come book with us and you will see. Bowhunters, black powder or modern firearms hunters…our guy will put you on your bull.
For those of our clients who love to hunt antlered game, TW also offers a fabulous family-owned business at two Queensland destinations, one of which is a beautiful private island at the edge of the Great Barrier Reef. Here our clients hunt Javan and Mollucan Rusa & Sambar Stags of true trophy proportions. Also trophy class fallow deer, axis deer and blackbuck are found here in excellent numbers. Accessed out of Brisbane, this is the perfect add-on to your Northern Territory buffalo hunt either in preparation for…or to wind down after tangling with those north country brutes.